As an energy-efficient alternative to traditional radiator systems, underfloor heating is becoming increasingly popular. What is the best option for underfloor heating, and how does it work? Here's our comprehensive guide to underfloor heating we hope we can answer some of your FAQs!
Our expert underfloor heating installers can help you choose the ideal underfloor heating system for your needs in Eastbourne, Lewes, and Ringer. If you'd like to learn more, call us today at 07725 520980 or visit our underfloor heating page.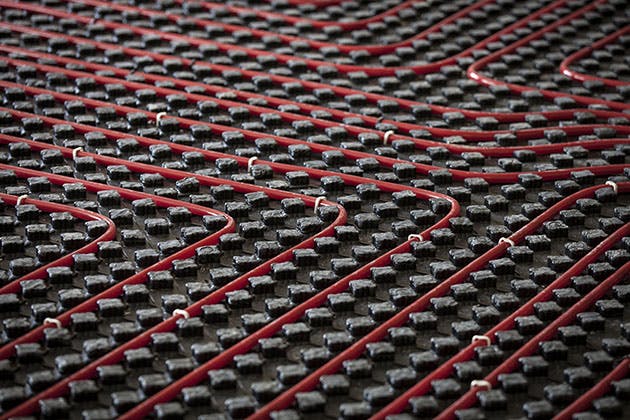 What are the advantages of installing underfloor heating?
While it's natural to consider underfloor heating a luxury feature, it's a mistake to believe it's out of reach. Underfloor heating is very cost-effective, and it might not be as expensive as that lovely designer radiator you've been eyeing all year.
Because of their minimalist design, many modern interiors could take advantage of underfloor heating. It replaces radiators in areas where they aren't needed and is powerful enough to act as the primary heat source in a home.

When is it suitable to have underfloor heating installed?
Underfloor heating can currently be installed in two ways: during the construction or renovation of a home, or after the house has been built. Installing underfloor heating while the floor is still being laid is, as you might imagine, much easier.
There are a few exceptions, such as installing bathroom underfloor heating – bathroom tile is much easier to lift or replace than other types of flooring.

What is the best type of underfloor heating?
Electric underfloor heating, also known as a dry system, and hydronic underfloor heating, often known as a wet system, are the two main types of underfloor heating. Both dry and wet underfloor heating systems have advantages and disadvantages.
The biggest disadvantage of electric underfloor heating is the cost of operation. The expense of heating an entire floor area with electric underfloor heating will be much higher than the cost of running wet underfloor heating. Electric underfloor heating has the advantage of being simple to install, which is why it is frequently used in smaller spaces or DIY projects.

Wet underfloor heating, on the other hand, is incredibly efficient, being roughly 25% more efficient than radiators when used with a new condensing boiler and up to 40% more efficient when used with a heat pump. In contrast to a gas or oil boiler, which heats water to between 65 and 85 degrees Celsius, a heat pump produces hot water at roughly 40 degrees Celsius. The plumbing aspects, however, necessitate the use of a qualified installer.
(Check out our blog: Types of Underfloor Heating [2021])
Is Underfloor Heating Appropriate for All Flooring Types?
Underfloor heating will, of course, work with any type of floor. Some flooring materials will work better with underfloor heating than others, based on the efficiency with which they carry heat!
Tile and stone floors are among the best heat conductors, allowing your underfloor heating to reach the soles of your feet as quickly as possible. That is why kitchen underfloor heating is so popular.
Other types of flooring, on the other hand, don't have to be avoided if you really want them.

Get in contact with our team in Eastbourne, Ringmer, and Lewes for more information about underfloor heating by calling 07725 520980. We'd be happy to help! Alternatively, you can look through previous projects in our gallery.