There's no doubt that the process of a bathroom redesign and refurbishment is an exciting one. With all of the steps and checks involved, it can also be overwhelming too. In the excitement of planning a new bathroom, sometimes elements can get overlooked and forgotten about. That's why we have created a comprehensive guide designed to make starting out on your new bathroom project easier.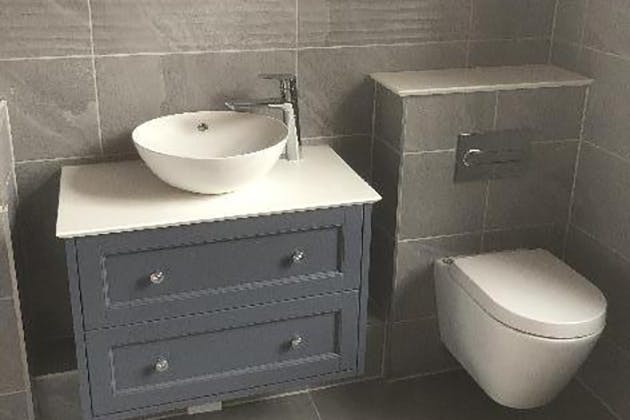 Planning!
Making a plan and sticking to it is a great way to set yourself up for a successful bathroom renovation. Due to the plumbing and electrical work involved, changing your mind halfway through a project is not always easy and straightforward. So, deciding where the main fixtures such as the bath, sink, toilet and shower is a great place to start.
A good plan will also help give the tradespeople that you hire for the work a clear understanding of your vision and get everyone on the same page.
Did you know that DC Heating & Plumbing's bathroom installation service includes all aspects of a bathroom renovation including planning, tiling and plumbing work? We also strive to keep our bathroom installation service affordable and fairly priced. Find out more by selecting the button below.
Choose a theme for your new bathroom
Having a theme, colour scheme and style for your new bathroom decided early on will help make the bathroom renovation process easier. By sticking to a consistent theme, your finished bathroom will likely look more harmonious and well thought out.
Consider ventilation in your planning and building stages
For bathrooms, ventilation is extremely important. A badly ventilated bathroom will build up moisture which could result in damp and mould problems throughout your bathroom and home. Extractor fans are invaluable, especially in bathrooms with no windows.
Don't forget about the small fixtures
Keep in mind placement for the smaller items such as towel rails and toilet roll holders. These elements really finish a bathroom and provide great functionality in your new bathroom. Choosing small fixtures that will fit into your bathroom theme is a great way to keep your bathroom design consistent in your bathroom.
Get a bathroom renovation quote from DC Heating & Plumbing
The main goal of a well-planned bathroom project is to fulfil your vision for your perfect bathroom. DC Heating & Plumbing have extensive experience carrying out beautiful bathroom renovations throughout Eastbourne, Lewes, Ringmer and surrounding areas and always deliver stunning bathrooms that match the brief from our client's.
To get a bathroom renovation quote call 07725 520980 or get in touch via our website's contact form. You can also drop us an email at info@dcheatingplumbing.co.uk and one of our friendly team will be back in touch.