The government's 'Green Deal' initiative is now well underway, with the aim of helping homeowners and businesses make energy-saving improvements to their properties without having to pay for them upfront. So far, one of the most popular options for Green Deal financing is the air source heat pump – but is this the best choice for your property? Here we take a look at what an air source heat pump is, how it works and whether it could be a suitable option for you.

Our heating engineers in Eastbourne, Ringmer & Lewes are happy to offer advice and install Air Source Heat Pumps get in touch with us today on 07725 520980.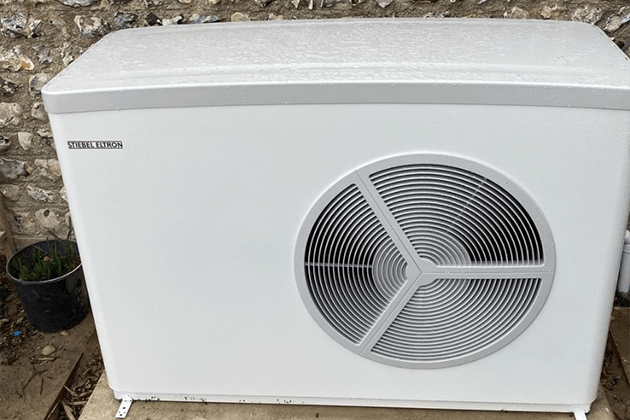 With an Air Source Heat Pump, you can take advantage of natural heat sources to keep your home warm. The unit will sit outside the house and absorb energy from winds or solar panels with a device that converts this thermal energy into useable forms like hot water for showering or radiators inside homes! No more gas bills mean this is one green technology worth considering.

To see if an air source heat pump is right for your property, you'll need to consider several factors.

Insulation
Air Source Heat Pumps work by exchanging heat with their environment, so it's important that the house they're installed in has well-insulated walls. If you live in an older property or one which isn't very insulated though - think about making these improvements first before installing.

Underfloor heating or Large radiators
Although not required, Air source heat pumps work best with larger radiators and underfloor heating systems. Upgrading the radiators is frequently part of the installation process, so they do not need to be changed beforehand.

Hot water cylinder
Air source heat pumps, unlike combi boilers, do not produce hot water on demand, so the hot water must be kept in a cylinder until it is required. Therefore, you will need to have space to install a hot water cylinder.

Exterior space
To extract heat from the air, your air source heat pump must be installed outside, with adequate airflow all around it. It can be installed on a wall in some cases, but it must be located somewhere accessible so that your heating engineer can easily reach and service it.

If your home meets the requirements, an Air Source Heat Pump is a great addition. They work best when you heat your home to a consistent temperature and keep it there. This eliminates the need to constantly adjust your thermostat to compensate for cooler temperatures. It will also eliminate your reliance on fossil fuels for home heating because Air Source Heat Pumps can be powered by clean, green electricity.
Contact us to request a free quote from our heating engineers in Eastbourne, Lewes, and Ringmer and begin your journey to revolutionise your home's heating.