There are a few different types of underfloor heating systems available across the UK. Here at DC Heating & Plumbing, we go through these to help you decide and choose the best underfloor heating system for your home. If you would like to speak to our qualified heating engineers across Eastbourne, Lewes, Ringer or the surrounding areas, simply call us on 07725 520980.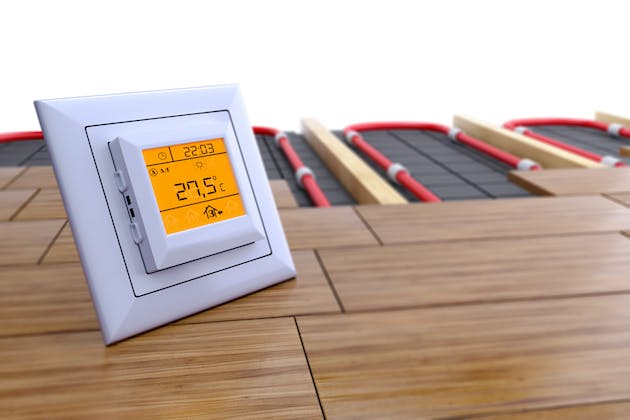 Types of Underfloor Heating Systems
When it comes to underfloor heating, there are two main systems that you can install. One of them is a dry system, known as an electric underfloor heating system and the other is a wet system, this is often known as hydronic underfloor heating. Even though they are slightly similar, there are advantages and disadvantages to them.
Electric Underfloor Heating
The biggest advantage of dry underfloor heating is that not only are they easy to install, they are also the most cost-effective option to choose from when compared to wet underfloor heating systems. The disadvantage of this type of system is that they have a high operating cost.
If you are considering getting electric underfloor heating fitted, you need to make sure the heating is correctly controlled, this is due to its high heating output and short heating reaction time. If you would like a free quote, send us a message using our contact form and we will get back to you as soon as we can.
Wet Underfloor Heating Systems
These have become increasingly popular over the years, especially for those who have recently had their homes extended or moved into a new build property. Wet underfloor heating systems use water for heating and are fully compatible with solar technologies, such as air source heat pumps or solar thermals!
The installation process is longer than electric underfloor heating, the reason for this is because wet underfloor heating requires connecting a series of pipes to your boiler to help circulate hot water throughout our home.
For more information on underfloor heating, get in touch with our team, across Eastbourne, Ringmer and Lewes by calling us on 07725 520980 and we will be happy to help! Or browse through our projects here.